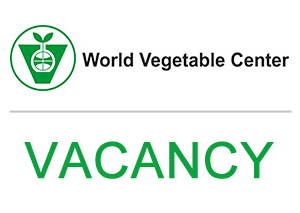 Join the World Vegetable Center's multicultural team of scientists and professionals dedicated to ensuring the prosperity of small-scale farmers in developing countries and the health of people worldwide.
The World Vegetable Center is a non-profit, autonomous international agricultural research center with headquarters in Taiwan and regional offices in Africa and Asia. The Center conducts research and development programs that contribute to improved incomes and diets in the developing world through increased production and consumption of safe vegetables. For more information, please visit our website: avrdc.org
The Deputy Director General - Research (DDG-Research) is a member of the senior management team based at Center headquarters (HQ) in Shanhua, Taiwan. Reporting to the Director General, this position will be supported by a team of global theme leaders and heads of research support services. The successful candidate will work closely with the Center's four regional directors in Africa (Mali, Tanzania) and Asia (India, Thailand).