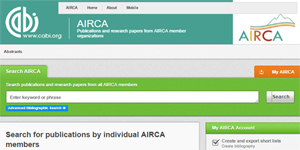 This site provides a searchable database of abstracts of the key publications by AIRCA Member organizations and has been set up to make the AIRCA publication abstracts freely available, including, wherever possible, the corresponding full text, or links to the full text.
Link: www.cabi.org/airca
The staff working for the different AIRCA members also publish research in international scientific journals, publications and reports, and CABI indexes and abstracts this scientific content in their main research database, CAB Abstracts. For more information about CAB Abstracts, please go to http://www.cabi.org/publishing-products/online-information-resources/cab-abstracts.